The team at Aeroklas Asia Pacific Group are excited to announce a new website, which launched May 2021. AeroklasFitment.com.au is designed to support the all-new Aeroklas Fitment Centres. These Fitment Centres are being established across the country – centres are already up and running in Kewdale and O'Connor, WA and in Brendale, QLD, with more on the way – and we wanted to give our customers all the digital support they need to get the very best out of these new service hubs.
Fitment centres
What exactly is an Aeroklas Fitment Centre? This is a place where Aeroklas, Flexiglass and Bocar customers will be able to bring their vehicles – connecting with bespoke services and upgrades on-site. All three brands have long histories in the Australian automotive market and we're keen to provide their customers with a more convenient and immediate service that supports 21st-Century road users.
Thus, the Fitment Centre was born. We also realised quickly that a forward-thinking service point like this one requires the right approach to digital support. Therefore, we opted to create a whole new website for the Fitment Centre, so that customers have an online resource via which to book appointments, learn about our services, compare products, or simply learn more about what we offer.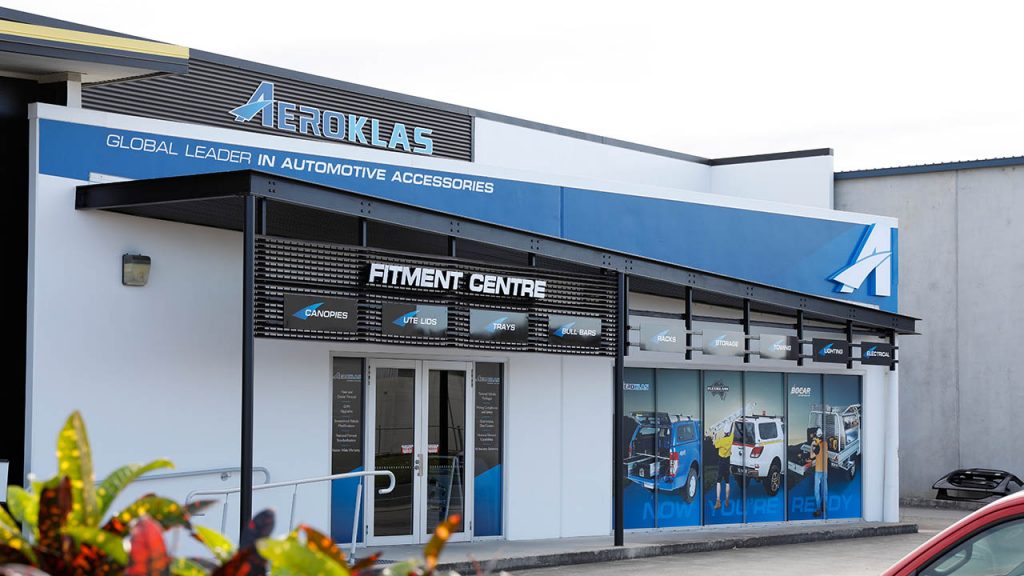 Supporting customers
The new Fitment Centres are designed to provide support and increased capability for customers across many different categories. Whether you're a tradie in search of reliable services and add-ons for your LCV (light commercial vehicle), or the manager of an LCV fleet and you need enterprise-level support, the fitment centre is for you. We also offer services and support to car dealers, other business and industrial customers, or simply to individuals.
Centre services
What can customers achieve here at one of Aeroklas' Fitment Centres? Services include:
End-to-end full vehicle fit-outs
Bespoke and tailored product and service packages
Vehicle modifications
Compliance and upgrades
GVM upgrades
Purchase and installation across the expanded product range
Vehicle protection and security solutions
Storage solutions
The centres are designed to provide a one-stop-shop for customers in search of LCV, SUV and pickup services they can rely upon. They will find everything they need in one location, reducing downtime and increasing the efficiency of the process.
New website
We are very proud to be able to add the Aeroklas Fitment Centres to our service network – and to be able to augment the experience we offer to our customers. But where does the new website fit into this? The new website is the digital arm of the Aeroklas Fitment Centre rollout. From the beginning, we knew that we did not just want to offer a pretty set of pictures and some snappy advertising; we wanted to offer genuine support and functionality to our customers across Australia.
When you visit the Aeroklas Fitment Centre website, you will be able to complete a number of different tasks, including:
Find up-to-the-minute pricing on products, excluding installation
Submit a quote request to access complete and reliable pricing for your project
Request to book an appointment with one of our Fitment Centre experts
Connect directly with qualified Aeroklas personnel via the site's contact channels
Learn all about the latest products and services in the Aeroklas range
Discover more about the Fitment Centres in your area
This is what we mean when we say that the website is the digital arm of the new fitment centres – customers can begin the service process remotely, via their computer or mobile device.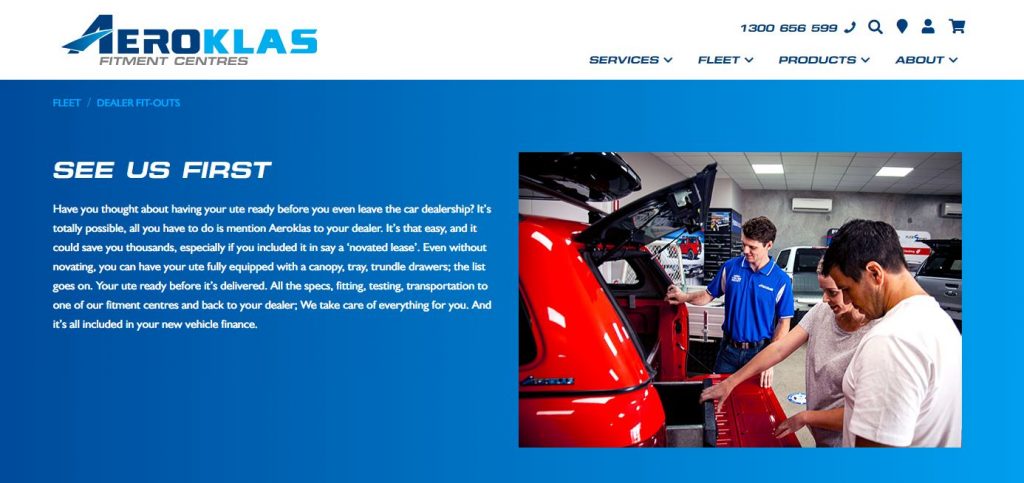 Website objectives
We have a number of different key objectives in mind as we launch this website. These are:
To support our teams in the field – both at our existing fitment centres, and ones that are due to open in the future.
To expand the capability we offer to our LCV fitment customers – everyone from tradies and fleet managers to car dealers will be able to gain more insight and understanding wherever they are based.
To increase the public's knowledge of our new fitment centres – we are very proud of what these fitment centres are capable of, so it makes sense that we want to get the word out there!
Our locations
You can find our Fitment Centres in:
Brendale (north side of Brisbane), Queensland
Kewdale (just west of Perth), Western Australia
O'Connor (south of Perth), Western Australia
We also have two satellite Flexiglass Branches located in Silverwater, NSW and Tullamarine, VIC, as part of our national support network. These Centres and Branches are designed to make life as easy as possible for our customers. With this in mind, we plan to roll out Aeroklas Fitment Centres in all major cities across the country in the future.
Contact us
For more information on the new Aeroklas Fitment Centres, please visit AeroklasFitment.com.au or contact our team directly on 1300 656 599.